One approach to keep personal information on your iPhone safe from inquisitive eyes is to use a locked note. lock notes on iPhone are straightforward, but you'll need to set up a password for your Notes app. You can do this before locking a note in the app, but it's quicker to just set the password the first time you lock a note.
In the Notes app, open or create the note you want to lock.
The three-dot menu will appear.
The lock symbol should be tapped.
You'll be invited to create a password for the Notes app if you haven't already done so. In the Password area, type the password, then in the Verify field, and finally in the Hint field, type a password hint.
Turn on Face ID unlocking by tapping the toggle to the right of Use Face ID.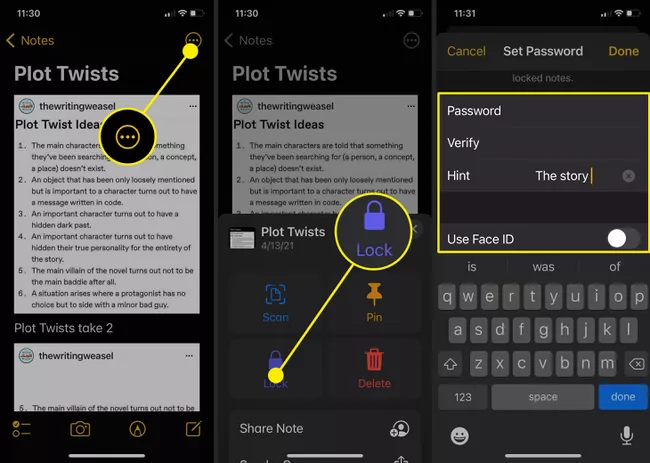 Note: If you have an older iPhone with a Home button, you might be able to use the Touch ID feature to unlock your note. You can do so right now if that's your preference.
Tap Done.
You'll be taken back to your note after the setting process is completed. The note has an open lock in the top right corner. Tap the open lock when you're done revising the note. This locks your note and requires the password you set to open it again.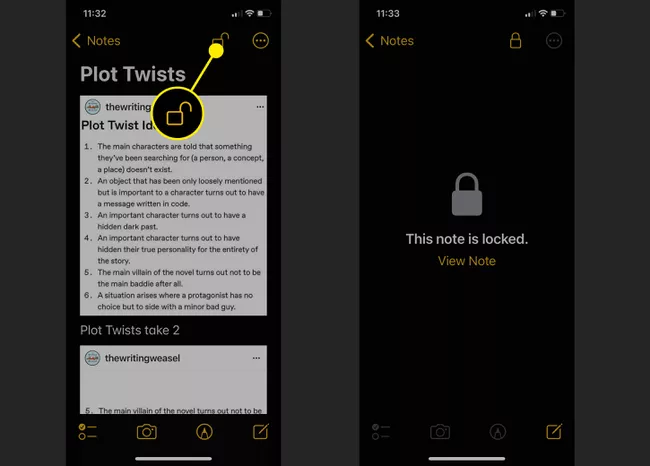 Although all locked notes utilize the password you set above, not all notes are locked automatically. Before the password is applied to a note, you must select to lock it. Once you've done so, you'll need to unlock the note with the password (or Face ID or Touch ID, if you've set those up).
Why Can't I Lock My Notes on iPhone?
If you're experiencing difficulties locking notes on your iPhone, check to see if passwords in Notes are enabled in your Settings. Open Settings > Notes > Password to do so. If you haven't already done so, create a password for the Notes app using the fields given, then press Done.
Note: Locking notes with video, audio, PDF, or other file attachments is not possible. You can, however, lock notes that contain images.
As if we are talking about the privacy of our notes on iPhone. We can also be concerned about our contacts also. We also look the ways to hide contacts on iPhone. We have written a complete article on it as well. You can read it and hide your desired contacts on your iPhone with some easy simple steps.
FAQs
How do I share a note on an iPhone?
Swipe left on the note you wish to share from the main list of notes, then tap the icon that looks like a person with a plus sign next to them. Messages, Mail, and other social media apps allow you to share notes. You and the people you invite can see changes to notes as they happen when you share them.
How do I print a note from iPhone?
Tap the More (three dots) menu in the upper-right corner of the message you want to print. The menu that appears should include a print option. If it isn't, pick Send a Copies, then Print.
Can I lock notes app in iPhone?
To keep your notes secret, you can password encrypt them in the Notes app on your iPhone. To lock a note, use the Notes app's Share button to add a lock to the file.
How do I put a password on my notes?
Press and hold the note you want to lock.
On the bottom bar, select the 'Lock' option.
Your note will be locked if you enter the master password.