WhatsApp is a widely used social media platform. It has 1.5 billion users from more than 180 nations throughout the world. It has made texting, audio, and video calling more convenient for its users. Fonts and text styles are particularly important in this regard. There are numerous WhatsApp text/font techniques to choose from. However, not everyone is aware of these techniques. If you're one of them and haven't heard about them yet, keep reading because the competition for Whatsapp Font Tricks:
Make Bold Text
WhatsApp has a built-in feature that allows you to bold your messages. When you need to emphasize a point, you can make the text bold. This Whatsapp Font Trick is quite common.
Add an asterisk (*) before and after the message to accomplish this. If you want to emphasize the term better in the sentence Android is better than iOS, for example, write it like this: Android is *better* than iOS. After then, you'll see that the writing has become bold. Press send to proceed.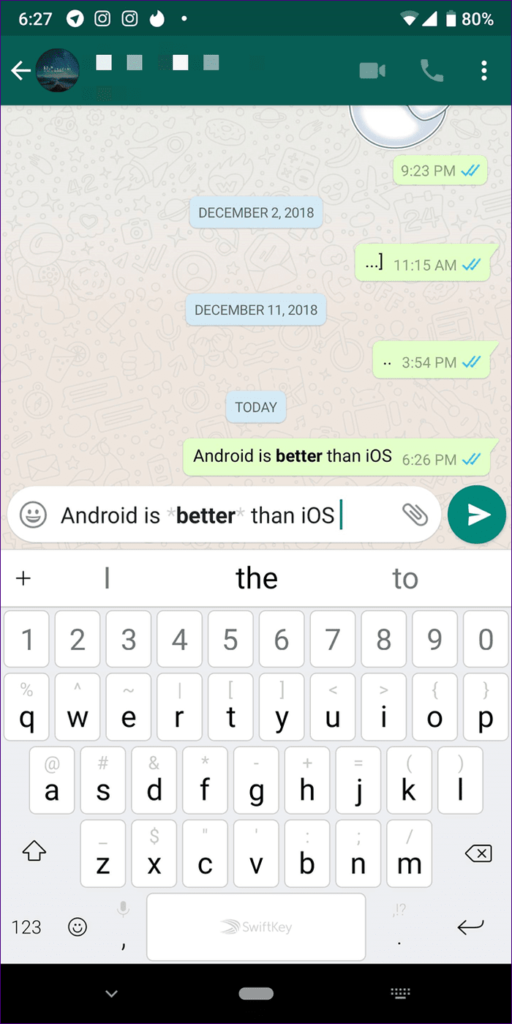 Strikethrough Message
You can use the strikethrough Whatsapp font trick to add fun and write dramatic messages with an accent on particular words, highlighting the points with symbols. This Whatsapp Font trick is a fantastic alternative for creating a text deletion effect and highlighting a certain word.
Place a tilde (~) on both sides of the word to add a line to your message (s). Assume you want to write. By To add a line to your message, place a tilde (~) on both sides of the word(s). Let's say you want to write Instagram is the best social network by cutting Facebook. You need to enter the text like this ~Facebook~ and Instagram is the best social network.
Italic Text
If you wish to make the text italic, you can do so as well. Italicizing a text is useful when you want to draw attention to a specific section.
To do so, add underscore (_) before and after the text. For instance, in the message Be _careful_ what you wish for, the word careful will appear in italic.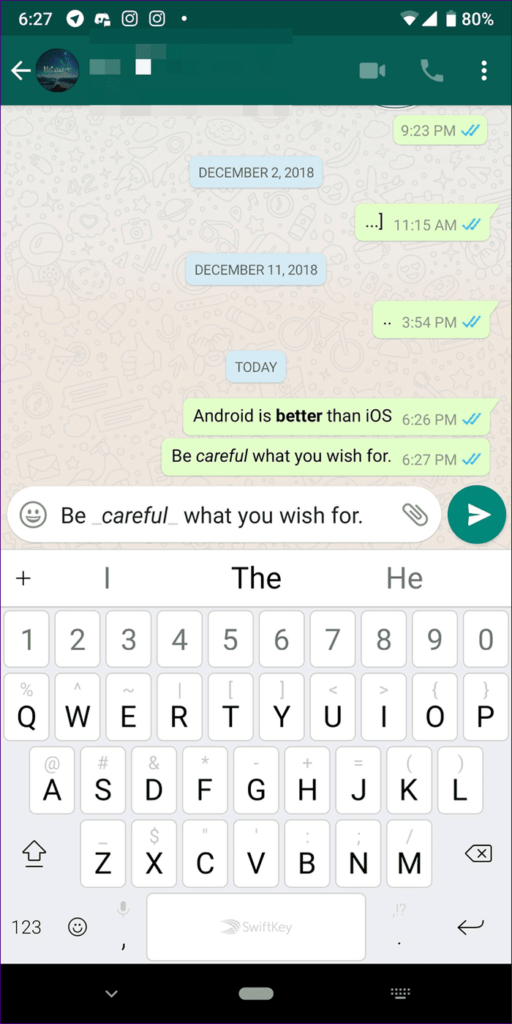 Changing Font
WhatsApp also supports a Monospace typeface in addition to the normal font. WhatsApp, on the other hand, does not include a global setting to change the typeface for all texts. You must edit it for each message separately. This elegant typeface is one of WhatsApp's most popular fonts. This monospace text font allows you to write messages in a variety of fonts and typefaces. Monospace text can be used in two ways. The first is to use shortcuts, and the second is to use the WhatsApp formatting feature. The following is a step-by-step approach to using Monospace typeface on WhatsApp. This technique works on both Android and iOS devices.
To change the font, enclose the text in three backticks ("`). This is how the text should be "`How you doin'?"`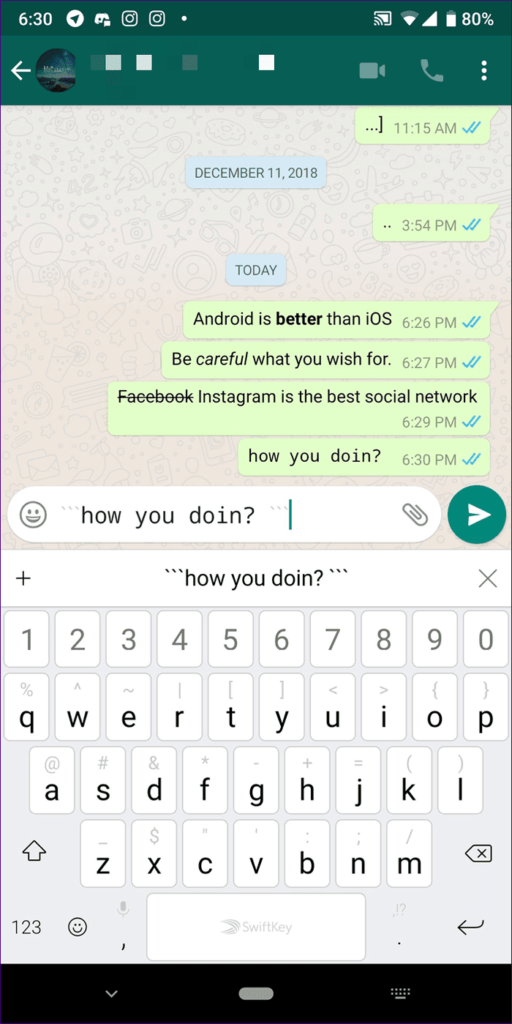 Automated Text Format Suggestion
You can utilize the built-in settings to format the text instead of utilizing the shortcuts. Tap and hold the message on Android, then select the appropriate formatting choice. To see more possibilities, tap the three-dot icon. Tap and hold the text on your iPhone, then select the BIU option. Then choose from bold, italic, strikethrough, and monospace as your formatting options. When a user types a message in the chat bar, a rapid edit shortcut option appears. Long press the message to select which words require trickery, and a choice of options will show in the toolbar at the bottom. In this approach, a user can quickly make all of the needed changes to the message.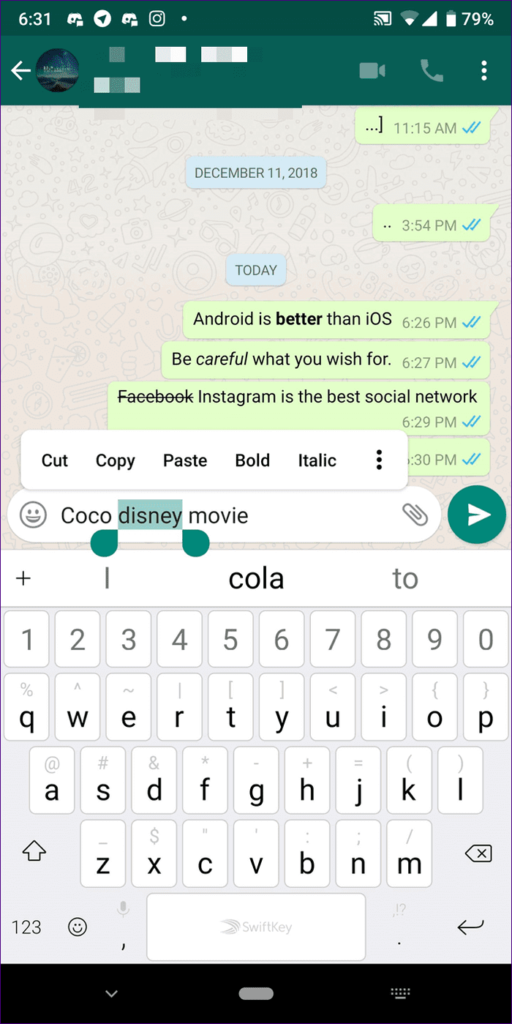 Mixed Formatting
You can mix several formatting options for one word or sentence, whether you use the shortcuts or the native settings. You may bold, italicize, and even change the typeface to Monospace on the same text. You do not need to be concerned if you want to use many formatting styles in the same text. This can be accomplished by combining various markdown symbols to produce the following sorts of combined formatting. The following combinations are most commonly used:
Bold & Italics
Italics & Strikethrough
Bold & Strikethrough
Bold + Italics + Strikethrough
To do so, enclose the text in the respective symbols. The only thing you need to take care of is their order. The symbol that was entered first will be closed last. For instance, in this word *~_disney_~*, we have entered an asterisk first. Now we will now put it at the end. Alternatively, you can change the text format by touching and holding the screen. Select one choice first, then highlight the text again and choose another.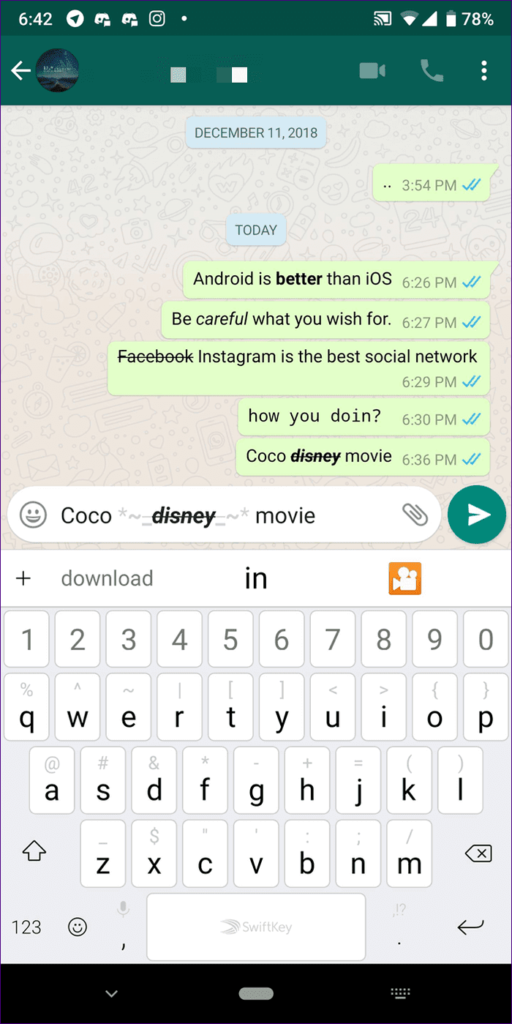 Change In Font Size
Let's say you're having trouble with the font size and want to alter it to your liking. In that scenario, you can alter the font size by launching WhatsApp, going to Settings, then Chats, and then selecting Font size. It will allow you to select between tiny, medium, and large font sizes, depending on your preference.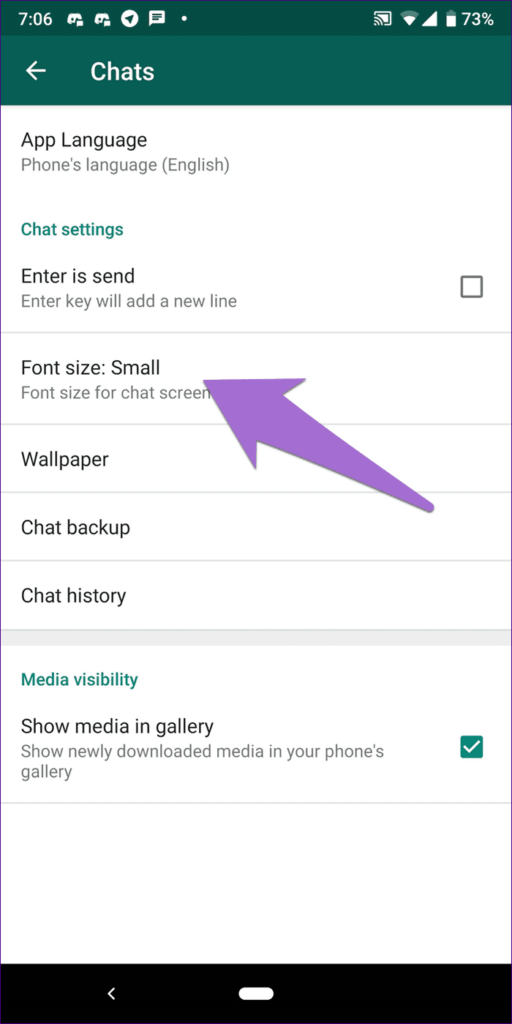 Colorful Messages
Another feature unique to Android smartphones is the ability to change the color of the text. WhatsApp, on the other hand, does not support this capability. You'll need to download BlueWords, a third-party program. You may color your text blue with the app's help. Download the app to your device and type in the text you want to modify the colour of in the typing box. Then select Blue and touch the message to copy it. Return to WhatsApp and paste the text you copied before.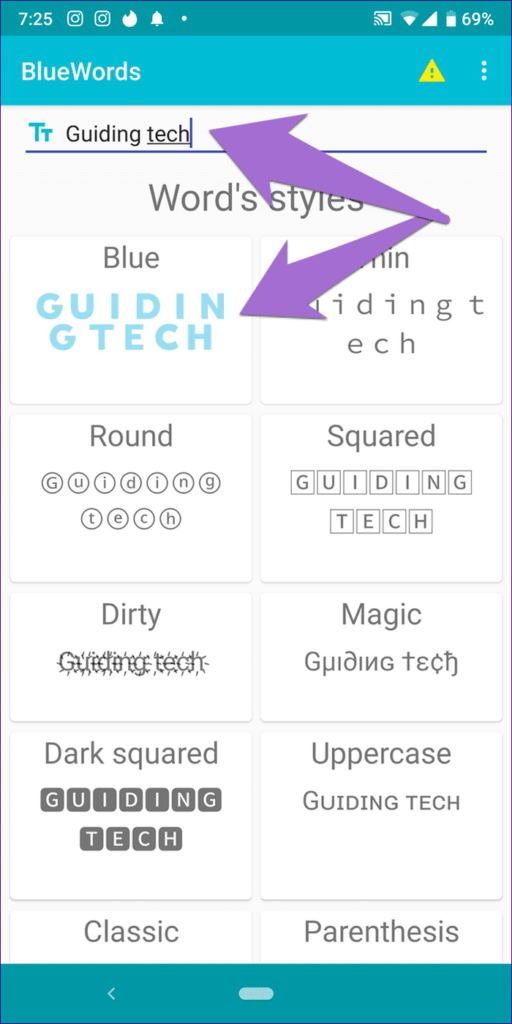 More Stylish Font
While WhatsApp does not allow any other font than Monospace, you can change font styles using the aforementioned third-party program. The software provides numerous options. Simply type in the text and paste it into WhatsApp. WhatsApp isn't as cool as Instagram, which has various font choices for Stories. While it allows you to change the font in text mode, it does not allow you to do so in normal mode. You may, however, modify the font style in both forms of status using the same program. To do so, use the text tool to copy and paste the content from the app into your WhatsApp Status.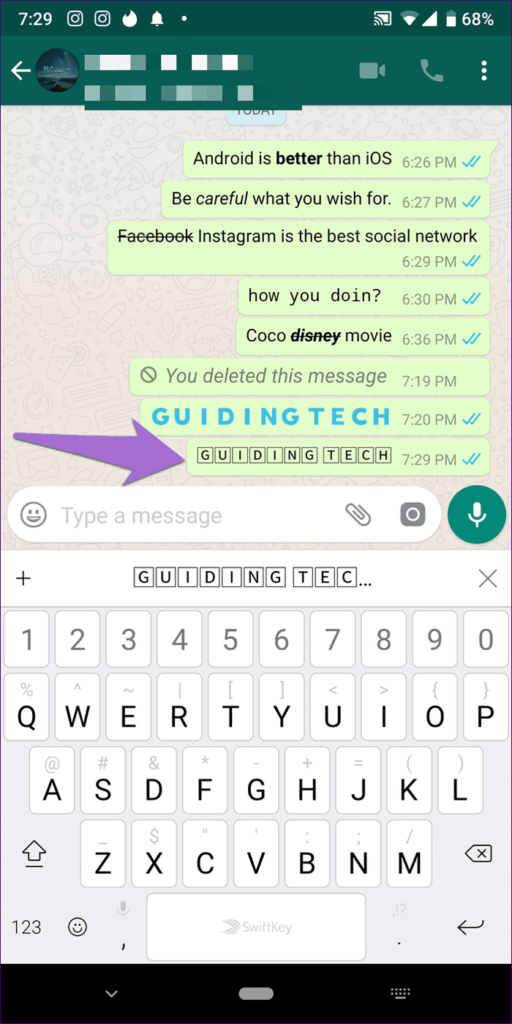 Emoji Text Design
Emojis are your thing? Take your enthusiasm for emojis to the next level by typing everything in them. While it isn't the best approach to text when utilizing entire sentences, it is appropriate for unique messages. You'll need to install Emoji Letter Maker, a third-party app, on your Android device. Enter the letters and emojis in the app. Modify it and share it with others on WhatsApp using the settings (+) icon.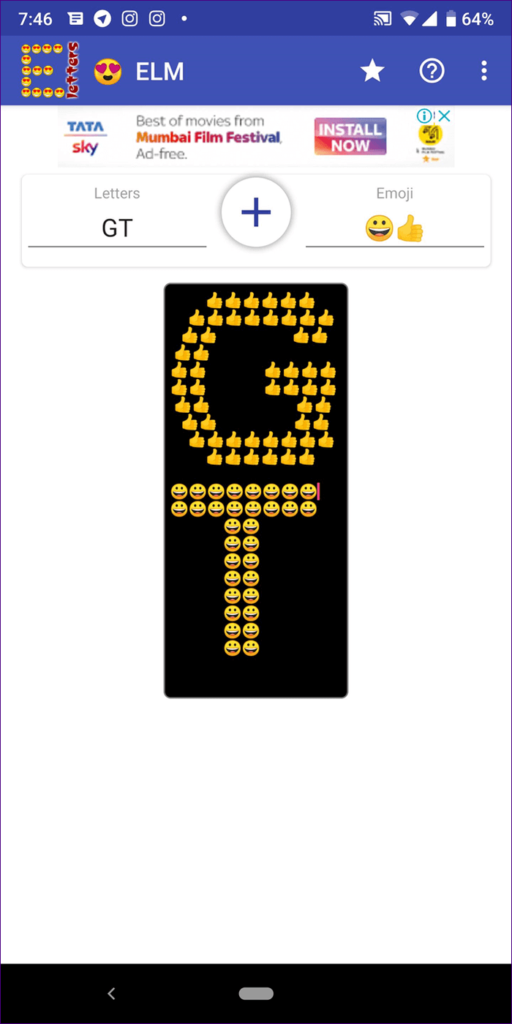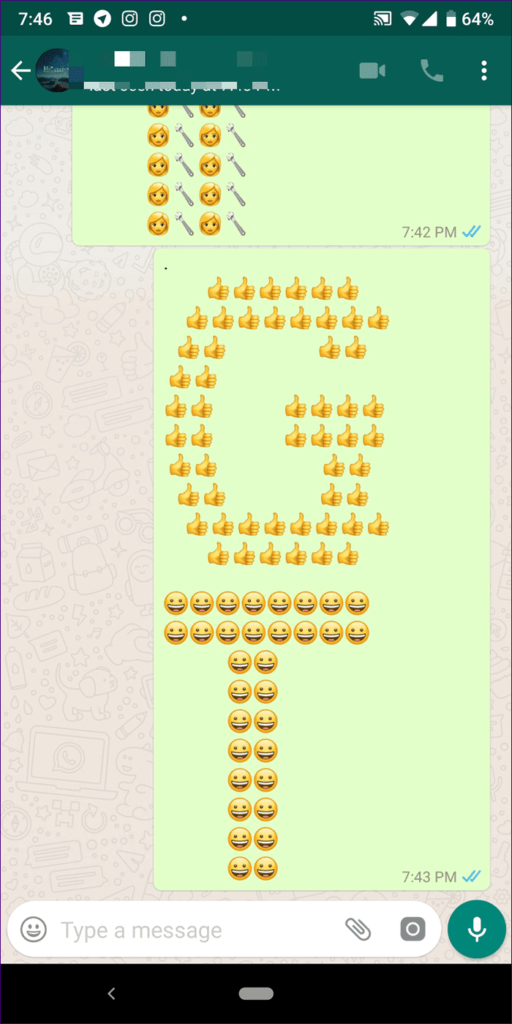 So there you have it: some WhatsApp font tricks to add some fun and drama to your conversation. WhatsApp also has a number of additional unique features. You may customize notifications, alter the background, adjust the tone for groups, and even change the notification color to dark or light. Always remember that backing up your WhatsApp data is critical. No doubt Whatsapp Font Tricks really add emotion to your conversation but there are some people that are looking for a dual Whatsapp account on one smartphone that can also be facilitated with this article.